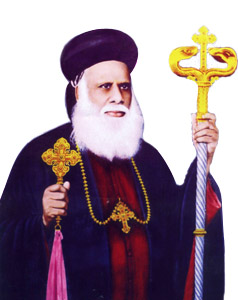 Source: Portrait at St. George's Church, Nedumbassery
"Vayaliparambil Mor Gregorios Gewargis,the Iron man of Malankara, was chosen by God to shepherd his flock in India. He rejuvenated the church through many reforms over his life-time, in many spheres of activity-spiritual, social, educational, cultural, charitable, administrative, and financial, while zealously guarding the true faith in obedience to the Holy Apostolic Throne of Antioch. He dedicated his life for his church, leading a humble and true Christian life, ministering to his flock as the metropolitan bishop of Ankamali, Niranam and Thumbamon. I praise the Lord Almighty for choosing me to be his successor (as Metropolitan of Ankamali) and seek the intercession of this servant of Christ, who had received the praise and recognition of H.H. Patriarch of Antioch and All the East for his selfless service." H.B. Catholicos Mor Baselius Thomas I.1
Geneology
According to Kerala Christian Diary, Pynadath family is one of the ancient families in Kerala. The origins of the family are traced to Arthat, Kunnamkulam, an ancient trade centre of Jews and Syrian Christians. Some historians suggest that the earlier cognomen of the family was Pulikottil. In the year 1789 AD, Tipu Sultan of Mysore attacked this place and destroyed some Syrian Orthodox Churches. This led to the migration of several Syrian Orthodox families to the Ankamali region of Kerala. Vayaliparambil is an offshoot of Pynadath family which settled in Ankamali. Gewargis was born in this family on 17th July, 1899, as the fourth child of Vayaliparambil Pynadath Kuryath Thoma and Sosamma (Vittha). He was the great grandson of the elder brother of Mathu Itoop, the first signatory of the resolutions of the historic "Mulanthuruthy Synod of 1876."2 He was named Thomas Varghese, and was affectionately called Kunji Varkey by his parents.
Childhood, Education and Ordination
Gewargis was a parishioner of the ancient Mor Sabor and Afroth Syrian Orthodox Church, Akaparambu. As a young boy, in 1910, he caught the attention of H.H. Patriarch `Abded Aloho II of Antioch and All the East, who visited that church for the consecration of Mor Athanasius Paulose Pynadath. In a private audience with the boy's parents, the Patriarch requested them to consider sending him to the Patriarchate in Mardin to prepare for priesthood.
After his English School Leaving Certificate, Gewargis studied for intermediate and Bachelor of Arts degree at the Union Christian College, Aluva. In 1944, he completed Licentiate in Teaching from Meston Training College in Vepery, Madras under the guidance of Mr. Fuolger. He spent some time in Ceylon (Sri-Lanka) and Singapore. He also studied at the Mor Ignatius Monastery, Omallur. One of his companions at the monastery was Dayroyo Abdel Ahad, a native of Mosul, who later became the Patriarch Mor Ya`qub III.
During his stay in UC College, an inmate was stabbed to death in his hostel room. The room remained vacant since no student had the courage to stay there. The principal announced that any one willing to occupy that room could stay for free. Mor Gregorios volunteeered and stayed in that room throughout his education saving the hostel rent for his charitable activities.
Gewargis was ordained shamshono (deacon) in 1937 and qasheesho (priest) in 1939.

Journey to the Holy Land in 1946
On 26th June, 1946, Gewargis, along with Dayroyo `Abdel Ahad, Fr. Yacob Thakadiyil of Chingavanam and Mulayirikal Paulose Ramban (later bishop of Cochin diocese and founder of Koratty Zion Seminary) left for Jerusalem and Syria from the port of Bombay in McKenzie company's m.v. "Barpitta". The ship reached the port of Basra, Iraq, on the morning of July 14th via the Persian Gulf.
At the Mor Matay Monastery in Mosul, the group was warmly welcomed in the traditions of the church. At the St. Mark's Monastery at Jerusalem, he laid a marble epitaph in Syriac for three Syrian Orthodox priests from Kerala who were buried at the monastery—Qashisho Mattai of Vadakara church (+1927); Kunnamkulangara Pulikottil Ramban Yacob (+1927) and Shamshono Gewargis of Mattancherry (+1929).
On July 20th he was given a grand reception by the Syriac Orthodox Church at Baghdad, attended by prominent Syriac Christian bureaucrats including the Surgeon General Dr. Abdulla Barsaum (brother of H.H. Patriarch Ignatius Afrem I Barsaum) and business man Mr `Abdel Ahad Nemo. In his address to the gathering, he urged Syriac Orthodox Christians in the Middle East and Malankara to develop closer ties across geo-political borders to become one people under the holy Throne of Antioch and All the East. He proposed four suggestions.
Disseminate news about Middle Eastern Syriac Orthodox Christians in India and vice versa.
Every year, organize visits of Syriac Orthodox Christians from Middle East to India and vice versa.
Encourage inter-marriages between Syriac Orthodox Christians in the Middle East and in India.
Start joint business enterprises and ventures between Syriac Orthodox Christians in the Middle East and in India.
He requested Mr. Refelbuti, the owner and editor of "Al-Billard" Newspaper of Iraq to promote his propositions.
On Aug 4th 1946, Fr. Gewargis was consecrated as bishop by H.H. Patriarch Mor Ignatius Afrem I Barsaum, at Homs, Syria with the name Gregorios for the Ankamali diocese (the biggest diocese of the Syrian Orthodox Church all over the world) succeeding late Malankara Metropolitan Mor Athanasious Paulose Pynadath.
Gewargis travelled as pilgrim throughout the holy places in Iraq, Lebanon, Jordan, Syria, Israel, and Turkey. He published a detailed book on his pilgrimage. The book describes the religious, geographic, historical, economic, political, and cultural aspects of Middle east countries with photographs for the benefit of Christians in Malankara. The book also documents the important people he met on his journey. He records in the book that the learned Patriarch Afrem I Barsaum told him that Apostle St. Thomas preached the gospel in Mosul, Baghdad, Basra and Persia before his visit to India (in AD 52). The Patriarch also stated that St. Thomas was followed by the Syriac bishop of Basra, Daweed Episcopa a fact which no Western historians have recorded.
Before his return to India, Mor Gregorios visited Baghdad again. He returned to India aboard SS Barala embarking from Basra on October 10, 1946 and reaching Bombay on Monday, October 21st at 8.00 AM.

Contributions to the Church
Mor Gregorios expanded his diocese by constructing forty new churches across the diocese. In all these churches he planted coconut or rubber so that the churches would be financially self-sufficient. He renovated the Aluva Thikunnath Seminary and implemented schemes for its financial self reliance by planting rubber and coconut. Mor Gregorius built many educational institutions—Mar Athanasious Engineering College and Mar Athanasious Arts college at Kothamangalam are some examples of his farsighted activities in the sphere of education. He served as the chairman of the Mar Athanasious College Association which he promoted. As Fr. Thomas Varghese and later as bishop, he gave leadership to the Mor Gregorios student's organization. He revised the Sunday School syllabus and organization making Sunday school compulsory till fourth standard. He also arranged facilities for employees to stay at Syrian hostel attached to the Seminary. His inheritance went towards the construction of St. George's church and Mar Athanasious High School at Nedumbassery. H.G. sponsored free education for poor students in his school. In his registered will, he stated his desire that his personal wealth including the school remain under the Holy Throne of Antioch.
In 1945, Mor Gregorius started publishing a fortnightly church journal in Malayalam called "Sabha Chandrika". He encouraged the faithful of the Church to participate in artistic and cultural programs. He revised the remuneration of the clergy and chartered their duties and responsibilities, thus giving church a new hope and discipline. He founded the Bethlehem convent at Kizhakkambalam. In 1939, while a priest, Mor Gregorius founded a special chapel at Koratty near the Leprosy Hospital for leprosy patients who were socially neglected and isolated. He conducted special prayers for them at the church every week himself and looked after their welfare by regularly visiting them. His Grace also deposited a special fund as a perpetual annuity for the remuneration of priest in charge of chapel, so that this chapel will never be neglected. H.G. also sponsored free education for poor students in his school. He took initiative to organize and empower the Women's Association of the Church (Marthamariyam Vanitha Samajam).
Epilogue
His Grace led a very simple and ascetic life, subsisting on a frugal diet of kanji (rice porridge) and chamanthy (a coconut preparation), which he also served his guests. He led a very disciplined Christian life. He strictly observed all fasts and obligations of the church. Yet he was very forward in his outlook and broad-minded. During his leisure, Mor Gregorius would labor in his plantations, planting rubber and coconut trees, nuturing and watering them with his own hands. His Grace was very sensitive about nepotism, and his refusal to do any favors to his relatives earned the ill-will of some. He was always interested in serving the poor and the weak. He preferred to travel by foot, even from Nedumbassery to Koratty (about 24 km) and longer distances by bullock-cart. He feared none but God, was courageous, wise and farsighted in his leadership and administration. He did everything that he could to nurture the spiritual ties between Malankara and Antioch.

In 1958, as a senior bishop of the Church, he was instrumental in achieving peace in the church after years of schism and ensuing litigation. Unfortunately, this peace was not to last long. Recognising that the unity achieved was deviating from its foundation on obedience to the Holy See of Antioch and all the East, he worked hard to prevent another schism. His Grace passed away returning from a foreign tour on 6th Nov 1966. His mortal remains lay at Aluva Trikunnath Seminary along with the mortal remains of his predecessor Mor Athanasius Pynadath. The Church split into two in the early seventies after his death. A monument with his vestments has been erected in his memory at St. George's Jacobite Syrian Orthodox Church, Nedumbassery, founded by him in his native town. His departure was a great loss to the Syrian Orthodox Church and the Malankara church.

Mor Gregorios envisaged a truly universal Syrian church united under the Holy Throne of Antioch and all the East, transcending geo-political boundaries. He toiled for peace in the Church, serving the poor and the weak, spreading the Gospel, promoting education, and conducting himself selflessly with humility thus setting an example of a true Christian who loves God and his neighbor.

_______

Notes
1 H.B. Catholicos Mor Baselius Thomas I drafted the statement for this article on June 1, 2002.
2 The agreement signed and submitted to H.H. Patriarch Mor Ignatius Peter IV of Antioch and All the East by the Malankara Syrian Church and witnessed by St. Mor Gregorios of Parumala, the Patriarch's secretary and translator.
Mor Gregorios Gewargis. 1946-le Shima Yatra (in Malayalam), (Thiruvalla: Bethany Printing House, 1947). 279 pages.
Very Rev. Cor Episcopa Kaniamparambil Curien, "Angamali Palliyude Prasidhiyum Ambat Thirumeni-yude Vishudiyum," in Ambat Mar Kurilos Centenary Souvenir 1991. (Angamaly: St. Mary's Jacobite Syrian Church).