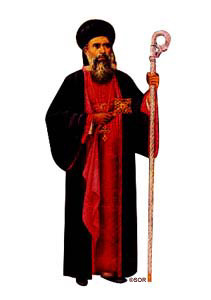 Mor Gregorius Gheevarghese is widely acclaimed as the great saint of the Malankara Syrian Orthodox Church. Mor Gregorius was born at Mulanthuruthy, India on June 15, 1848 to Mathai and Mariam of Chathuruthy family. His mother, Mariam, died when he was about one year old.
Mor Gregorius was ordained deacon in 1858 by bishop Athanasius at St. George's church, Karingachira. He was ordained qasheesho (priest) in 1861 by bishop Mor Koorliose Yuyakim. On November 17, 1865, he was ordained Chor Episcopa. On April 7, 1872 he became a monk and was henceforth popularly known as Chathuruthy Ramban (corruption of Rabban in Syriac). H.H. Patriarch Peter IV consecrated him Metropolitan of Niranam and Thumpamon diocese on December 16, 1876 at St. Thomas Church, North Parur according to the decisions of the Mulanthuruthy synod. Mor Gregrorius was the secretary and translator to His Holiness during his apostolic visit to Malankara. His shalmootho (oath of obedience) to the Patriarch documents his unconditional submission and loyalty to the Apostolic throne of Antioch.
To Malankara Christians, Mor Gregorius is known as Parumala Kochu Thirumeni (the Junior bishop, being the youngest of the six bishops ordained by H.H. Peter IV following the Mulanthuruthy synod).
Mor Gregorius visited the holy land along with deacon Sleebo (who later became the apostolic delegate of the Patriarch to India by name Ostatheos). Mor Gregorius spent most of his time in prayer and meditation. Mor Gregorius entered into eternal rest on the 2nd of November, 1902. His mortal remains are interred at St. Peter's church, Parumala, Kerala.
http://www.parumalathirumeni.com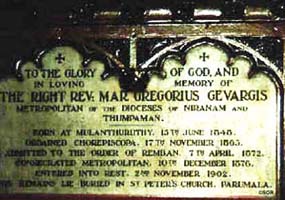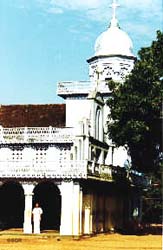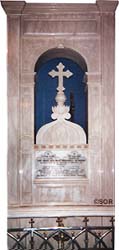 Tombstone. St. Peter's before renovation in 2000. Tomb after renovation.