SOR Organization


Patriarch's Visit


Paper on SOR

Email address of Webmaster

<thomas_joseph@bethmardutho.org>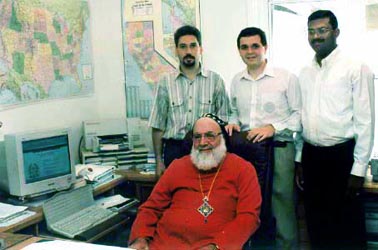 Source: Photograph taken on August 9, 1997
The Syriac Orthodox Resources web site was conceived by Thomas Joseph in January 1996 (under the name Syrian Orthodox Resources) and went live on a web server at UCLA on May 16, 1996. On July 31, 1996, it found its home at http://www.netadventure.com/~soc, after The Internet Adventure Company offered to host the site free. On October 25, 1996, George Kiraz, Samir Anz and Thomas Joseph decided to constitute the SOR Editorial Board which currently manages this site. On August 9, 1997, the web site was blessed by the visit of H.H. Patriarch Mor Zakka I Iwas. The site continued to be hosted at www.netadventure.com until April 30, 2000. On May 1, 2000, the site was moved to The Catholic University of America, Washington, D.C. The site was also renamed the Syriac Orthodox Resources in accordance with the Holy Synod's (Mar 28-Apr 3, 2000) decision to adopt the name "Syriac Orthodox Church" in English. On Mar 25, 2002, the design and architecture of the web site was upgraded to its current form.
Executive Committee:
Raban Eugene Aydin
Eugene (Edip) Aydin is a native of Tur `Abdin, a region in southeast Anatolia, Turkey. He was born in 1971 in the village of Gundukshukro (Gundukke d-'Ito) in the vicinity of Nisibis, the town of St. Ephrem. After completing his elementary education in the village, Eugene entered Mor Gabriel's Seminary in 1982 where he received training in both Syriac language and literature as well as in traditional Syriac theology and liturgy.
Following his secondary education in Turkey, Eugene went to England to pursue his theological studies at Heythrop College, University of London, where he earned a Bachelor's Degree in Divinity in 1995. Next, he went to Oxford University as a Visiting Student and spent a year at the Oriental Institute where he followed the Master of Syriac Studies course under the supervision of the renowned Syriac scholar Dr. Sebastian Brock.
In August of 1997, he joined St. Vladimir's Orthodox Theological Seminary at Crestwood, New York where he completed the three-year Master of Divinity program and graduated on May 20, 2000. The subject of his thesis was The History of the Syriac Orthodox Church of Antioch in North America: Challenges and Opportunities.
On Sunday, October 7, 2001, he was tonsured as a monk (dayroyo) by His Holiness Mor Ignatius Zakka I Iwas, Patriarch of Antioch and All the East at St. Ephrem's Monastery in Damascus, Syria and given the name Eugene (Awgin), in honor of Mor Awgin of Tur Izlo. On August 4, 2002 he was ordained to the priesthood at Mor Gabriel Monastery by His Eminence Archbishop Mor Timotheos Samuel Aktas of Tur `Abdin. Currently he is pursuing his doctoral studies at Princeton Theological Seminary in the field of Early Church History and Ecumenics under the supervision of Professor Kathleen McVey.
Chorepiscopus Kuriakose Moolayil
Very Rev. Corepiscopus Kuriakose is a member of the St. Adai's Syrian Orthodox Church, Nalunnakkal, Kottayam Diocese. Born to Mathew Anthrayose and Mariamma in 1955, Fr. Kuriakose started his theological education with a Diploma from the MSO Seminary followed by external studies for B.D. in UBS, Pune. Later he attended short term courses in Birmingham, UK, Marburg, Germany, and Budapest, Hungary. He completed M.A. in Syriac from SEERI, Kottayam. He is now preparing his defense for Ph.D. on Bar `Ebroyo at SEERI. He completed his Bachelors degree in English Language and Literature and Masters in Malayalam. He has also earned a Diploma in Homeopathy from A.H. Medical College, Kottayam.
He was ordained a Qoruyo in 1974, a priest in 1978, and was consecrated a Corepiscopos in 1995 all by the late Metropolitan Mor Gregorios Geewargis (Perumpilly Thirumeni). He served as Vicar of various parishes and also served the church as member of the faculty, M.S.O.T. Seminary, Mulanthuruthy, Ecumenical Secretary of the Church in Malankara, Co-secretary, Syrian Orthodox-Catholic Joint Commission for Dialogue, Executive Member, National Council of Churches in India, Church's Auxiliary for Social Action, Treasurer, Kerala Council of Churches, Secretary, Kottayam Diocese, Member of the Working Committee and Managing Committee of the Church in Malankara.
As the Publication Officer of the M.S.O.T. Seminary, Very Rev. Kuriakose authored and edited about 40 books. Now he serves as the Founder Director of Mor Adai Study Centre and has published 13 volumes. He also serves as the Publication Officer of the Syrian Orthodox Bible Society of India (Thiruvalla). He is one of the Members of the Board of Trustees of the India Centre for Social Change. Fr. Kuriakose is married to Mollykutty and they have two sons, Laby Andrews and Liju Jacob. Currently, the family resides in Chicago where Fr. Kuriakose serves as the Vicar of St. George Malankara Syrian Orthodox Church.
George Anton Kiraz, Ph.D.
Born in Bethlehem (Him too!) in 1965, George learned Syriac at the local Syriac Orthodox Church and at St. Mark's Monastery and developed a passion for Syriac studies. He migrated with his parents from Bethlehem to California in 1983 and settled in the City of Angels. He has been a member of St. Ephraim's Church in Los Angeles since then.
George's main hobby is collecting useless academic degrees: a B.Sc. degree in Engineering which he never used (California State University, 1990), a Master's degree in Syriac Studies (Oxford University, 1991), a Master's degree in Computer Speech and Language Processing (Cambridge University, 1992), and a Ph.D. degree in Computational Linguistics (Cambridge University, 1996). He has published many books on Syriac studies most notably a Concordance to the Syriac New Testament (6 volumes) and a Comparative Edition of the Syriac Gospels (4 volumes).
In 1984, he started toying with the idea of designing computer fonts for Syriac and succeeded in 1986. He developed the proposal for encoding Syriac in Unicode and designed the Unicode compliant Meltho fonts which enable Syriac computing on modern computers. His fonts are used ubiquitously for publishing Syriac books and engraving grave stones!
George resides in New Jersey (hates the weather!) and manages the Gorgias Press, the premier publisher of books related to Syriac Studies. He is also the director of Beth Mardutho: The Syriac Institute and General Editor of Hugoye: Journal of Syriac Studies.
George is married to Christine Altinis, absent minded, and loves cats but keeps planning to get one! The couple have a daughter, Tabitha, and a son, Sebastian Kinoro. George is a deacon of the church with the rank of Apodiakno (i.e., subdeacon). He can be reached at gkiraz@bethmardutho.org
Thomas Joseph, Ph.D.
Webmaster <thomas_joseph@hotmail.com>
Thomas is a native of Kerala, India. Born in 1966, he was brought up in a suburb of Cochin called Ambalamedu, although his father belongs to Kottayam and mother belongs to Cherai. Unlike George, he was absolutely convinced that he was acquiring very useful degrees but then hardly ever used any of them. This includes a Bachelor's in Mechanical Engineering (Institute of Technology, BHU, 1987), Master's in Systems Engineering (University of Southern California, 1990) and a Ph.D. in Information Systems (UCLA, 1996). He is a renegade from academia for which he was trained and currently works for a large systems integrator in California. The Syriac Orthodox Resources web site has become the arena where the pseudo-scholar in him masquerades. He is married to Renu and the couple have a daughter, Sarah. They are members of the St. Mary's Church, Los Angeles. Thomas can be reached at thomas_joseph@hotmail.com