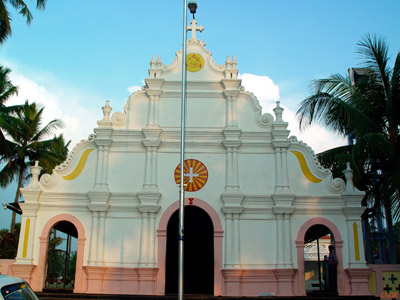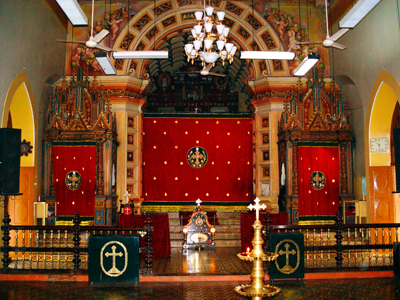 Source: Photographs taken on February 3, 2003
Mulanthuruthy Mar Thoman Church has great historical significance for the Malankara Syrian Orthodox Church. The Mar Thoman Church was established between AD 1110 and 1125. In 1675, Mor Anthrayos arrived at this church and lived here for several years. Mor Ivanius Hidayatullah who accompanied Maphryono Mor Baselius Yaldo resided at this church for a few years, entered into eternal rest on August 16, 1693 and was buried on the south side of the sanctuary of this church. The Patriarch of Jerusalem, Mor Gregorius Yuhanon took residence at this church in 1751, entered into eternal rest on July 10, 1773 and was buried on the north side of the sanctuary. On Tuesday, September 2, 1874, Mor Qurillos Yuyakim from Tur `Abdin consecrated and sent to Malankara by Patriarch Ya`qub II in 1846 as Reesh Episcopa of Malankara was buried on the north side of the church. Patriarch Peter IV presided over the famous Mulanthuruthy Synod at this church from Mithunam 15th to 17th, 1876. The Malankara Association was formed at this Synod. On August 17, 1876 the Mulanthuruthy padiyola was registered. On Chingam 15, 1876 Patriarch Peter IV consecrated Holy Chrism (Mooron). On August 6, 1911, Patriarch `Abded Aloho II consecrated Holy Chrism at this church. Patriarch Ya`qub III visited this church on June 15, 1964 and Patriarch Zakka I on March 11, 1982, April 9, 2000, and September 27, 2004. On September 27, 2004, the second Mulanthuruthy Synod was held here presided by Patriarch Mor Ignatius Zakka I Iwas. This Synod reiterated the Malankara Church is an integral part of the Syrian Orthodox Church and under the spiritual authority of the Patriarch of Antioch. The Synod marked the formal separation of the Malankara Syrian Orthodox Church from the erstwhile 'Metran Faction' now known as Malankara Orthodox Church or the Indian Orthodox Church.
On December 20, 1987, the historic Patriarchal Encyclical permitting the inclusion of the names of Mor Baselius Yaldo, Patriarch Elias III and Mor Gregorius of Parumala in the fifth diptych in Malankara Churches was first read here. On July 3, 1994, a relic of St. Thomas given to the church by Patriarch Mor Zakka I, who as Archbishop of Mosul had discovered the relics in the Church of St. Thomas at Mosul, was installed in this church. This church is also the home parish of the famous bishops of the Malankara Church known popularly as Kattumangattu Bavamar, the lone saint of the Malankara Church, Mor Gregorius and Malankara Metropolitan Kochuparambil Paulose Mor Koorilose. Qasheesho Shrambikkal Pallathittayil Gheevarghese, the spiritual master of Mor Gregorius of Parumala was laid to rest in this church on December 23, 1863.
Source:
Inscriptions and tombstones at Mar Thoman Church.
Tomb of Mor Ivanius Hidayatulla
Tomb of Mor Gregorius Yu

h

anon
Tomb of Qasheesho Shrambikkal Gheevarghese, uncle and malphono of Mor Gregorius of Parumala
Source: Photographs taken on August 25, 1996.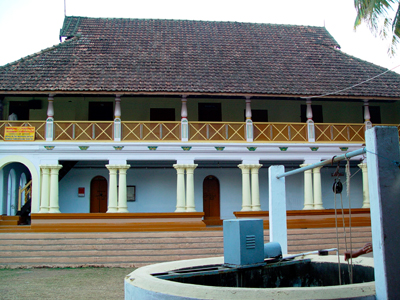 Source: Photographs taken on February 3, 2003.