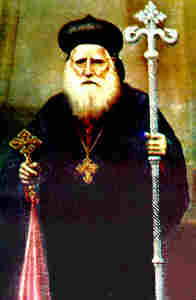 Source: 1996 Calendar of Simhasana Church, Kunnamkulam
Sleebo was born on January 1, 1854 at Kfarso in Mesopotamia to Salby and Nabuna of the Abakar family. His father, Salby, died when he was a child. He received his Syriac and liturgical education under Malphono Raban Shem`un. In 1880, he was ordained deacon by his teacher who had been consecrated bishop Mor Athanasius Shem`un. In 1881, Deacon Sleebo accompanied Mor Shem`un, who was appointed the first delegate of the Holy See of Antioch to Malankara by Patriarch Peter IV. Deacon Sleebo stayed with Mor Shem`un at Puthenpally, Kottayam until 1889. During the time he became a close associate of Malankara Metropolitan Mor Dionysius Joseph Pulikkottil and St. Gregorius of Parumala. After Mor Shem`un entered into eternal rest, Deacon Sleebo resided with Mor Dionysius at Old Seminary, Kottayam till 1906.
After 25 years in Malankara as deacon, in 1906, Deacon Sleebo was consecrated a monk by Mor Koorilos Elias Qudsho at the monastery of Mor Matay, near Mosul. In March 1908, Patriarch `Abded Aloho (Abdullah) II ordained him bishop at the church of the Forty Martyrs in Mosul and appointed him the Apostolic Delegate of the Holy See to India, succeeding his mentor Mor Shem`un. When Mor Dionysius Joseph passed away, Mor Ostatheos administered the affairs of the Church in Malankara as Apostolic Delegate.
Mor Ostatheos Sleeba ministered for the Church in Malankara establishing and consecrating many churches. He worked tirelessly to quell the schisms that emerged in those days. He brought the relics of Mor Qawmo from S.E. Turkey to India and interred portions in many churches. His labors in spreading the Word of God attracted many to the faith. Sick from far and near came to him to be healed through the relics of Mor Qawmo.
In 1920, Mor Ostatheos laid the foundation stone of St. Mary's Simhasana Church, in Kunnamkulam. During his early years at Kunnamkulam, he stayed in a house made of bamboo and thatched with coconut leaves. Mor Ostatheos lived a life of extreme austerity spending most of his time in prayer and meditation. He had hardly any material possessions, yet would often help the poor and needy taking out loans.
In 1929, Mor Ostatheos deteriorated in health. He went to his heavenly abode on March 19, 1930. His mortal remains are interred at the St. Mary's Church, Kunnamkulam.
Author: Rev. Dr. K. Mani Rajan