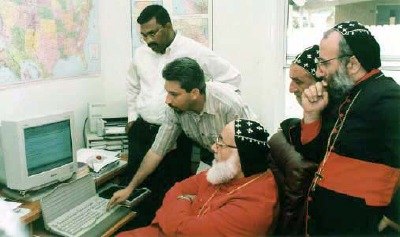 His Holiness browsing SOR Web Site
His Holiness Moran Mor Ignatius Zakka I browsed the Syrian Orthodox Resources web site on Saturday, August 9, 1997 at Burbank, California. From 11 am to noon, His Holiness viewed several pages from every section of the web site. His Holiness also got a preview of the Beth Gazo project and listened to many of the chants. The Patriarch also read with interest, a number of messages posted on the SORForum, the discussion forum of the web site, as well as the guestbook of the site. His Holiness was very impressed with the quality of the web site and signed the guestbook with a message of blessing. The Archbishop of Central Europe, His Eminence Mor Yulius Çiçek, and the Archbishop of the Western United States Patriarchal Vicarate, His Eminence Mor Clemis Eugene Kaplan, were with the Patriarch as His Holiness browsed the site. His Eminence Mor Yulius, who has made significant contributions to the church in Central Europe, expressed great satisfaction in the quality of the web site and the magnitude of work completed.
During the sermon on the following day at St. Ephraim's Cathedral, His Holiness alluded to his visit to the web site and touched upon the importance of technology for the church in the modern world.
August 9th, 1997 thus became a red-letter day in the history of the SOR web site. SOR has earned the distinction of becoming the first web site blessed by the "visit" of a Patriarch of Antioch.
The Patriarch arrived in Los Angeles on Monday, July 28th to attend the 1997 Annual and Youth Conventions of the Syrian Orthodox Patriarchal Vicarates of North America. His Holiness leaves for Damascus on Tuesday, August 12th.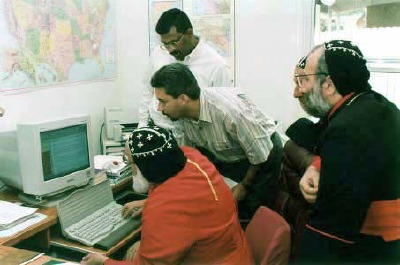 His Holiness signing the SOR Guestbook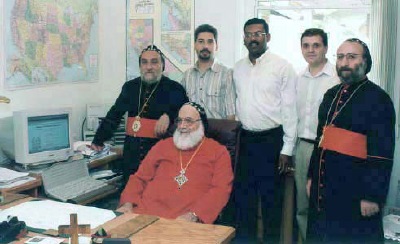 With Mor Yulius, Mor Clemis and the SOR Editorial Board
Text of the message posted by His Holiness on the SOR Guestbook
Mor Ignatius Zakka I Iwas
Damascus · Syria
We extend our Apostolic Benediction, best wishes and greetings to the Editorial Board of the Syrian Orthodox Resources web site and to all who visit this site.
We are very happy to have visited this wonderful web site. This site proves that our very ancient Church is involved in very modern technology and that our ancient Church is alive and progressing.
May God bless all those who work for this site, for the Church and for the glory of our Lord Jesus Christ. May our Lord bless everyone who visits this site. Thank you for your efforts.
May the Grace of God be with you!

Ignatius Zakka I Iwas
Patriarch of Antioch and all the East
Supreme Head of the Universal Syrian Orthodox Church

Saturday, August 9, 1997 at 12:02:30 (PDT)