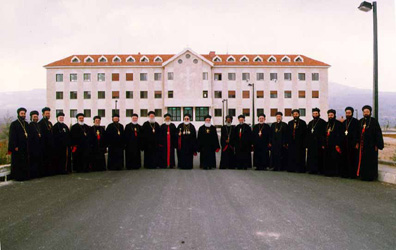 St. Ephrem's Monastery
Source: Photo taken on April 17, 1997
The Mor Ephrem monastery at Ma'arat Sayyidnaya was consecrated on September 14, 1996 by H.H. Patriarch Mor Zakka I. The building construction was initiated ten years earlier and was made possible through the generous contributions of the Syriac Orthodox faithful from all over the world. The monastery has five storeys and has an area of 4000 sq. m. The first floor has lecture halls and seminar rooms. The second floor has bedrooms for the monks, seminary students, and administrative staff. The monastery church, reception hall, guest suites and the library are located on the third floor. The fourth floor has rooms for visiting scholars. The kitchen, restaurant, warehouses, and service rooms are located in the basement.
His Holiness, the Patriarch, resides at the monastery although the Patriarchate remains at Bab Touma in the city of Damascus.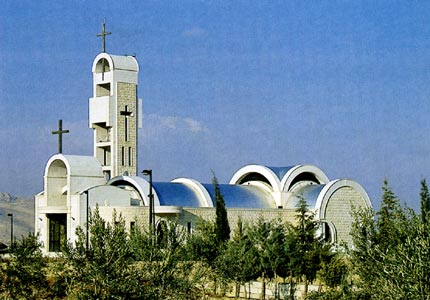 Sts. Peter's and Paul's Church, Ma`arat Sayyidnaya
Source: The Hidden Pearl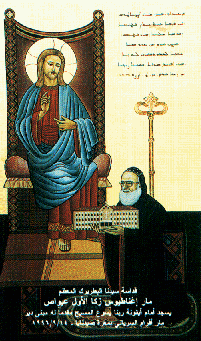 Icon drawn on the monastery walls by nuns of the Coptic Orthodox Church
depicting the dedication of the monastery