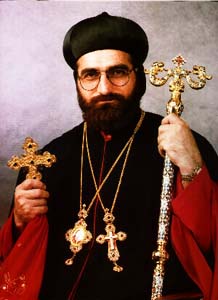 Source: Photograph from Gabriel Rabo, May 1997
H.E. Mor Dionysius was born in 1964 in Kfarze, in Tur `Abdin, Turkey. While at the Turkish Lyzeum in Midyat, His Eminence also finished his theological studies at the seminary in the monastery of Mor Gabriel. While there, he became a monk (in 1985). In 1989, he was sent to Damascus to teach Syriac and liturgy at the Mor Ephrem Theological Seminary of the Syrian Orthodox Patriarchate. In 1991, he was ordained to priesthood by H.H. Patriarch Mor Ignatius Zakka Iwas. For three years he served the Syrian Orthodox parish in Egypt. In 1993, the Patriarch appointed him as the rector of the Mor Ephrem seminary and he remained in this position until 1996. In September 1996, His Eminence was consecrated as the Bishop and secretary to the Patriarch. On May 18, 1997, His Eminence was appointed the Archbishop of Germany. The archbishop resides at the monastery of Mor Ya`qub of Sarug, Warburg.
As a monk, Mor Dionysius spent a year of studies in English in the US. In addition to Syriac, he speaks Turkish, Kurdish, Arabic and English.
Source:
Biography at Suryoyo Online (The page contains a German version of the biography).