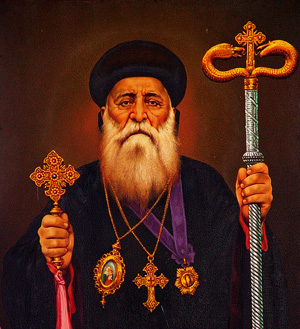 Source: Portrait at St. George's, Perumpilly
Mor Yulios Elias Qoro (1881-1962) was the third Patriarchal delegate to Malankara. Elias Malke Qoro was born in Mardin on August 1, 1881, and studied at the school of the Church of the Forty Martyrs there. He joined Deir al-Za`faran in 1902, and became a monk on 16 June 1905. Elias was appointed secretary to Patriarch `Abded Aloho II in 1906, and was ordained priest in 1908. He accompanied the Patriarch on a trip to Jerusalem, Istanbul, London, Paris, Egypt, and India, from 1908 till 1911. In London, he met King Edward VI twice and dined at his table. He became abbot of Deir al-Za`faran in 1911, and was appointed director of its printing press. Elias was consecrated bishop on 23 Sept. 1923 in the Church of the Forty Martyrs by Patriarch Elias III, with the honorific title Yulios, and was appointed to serve in Malankara. He became a Patriarchal Delegate to Malankara in 1927. In 1932, he established Mor Ignatius Dayro on the burial site of Patriarch Elias III in Manjinikkara. He also oversaw the establishment of a few monasteries and churches in Malankara. He died in 1962 while serving in India and was buried at Manjinikkara Dayro.
Mor Yulios was one of the foremost masters of the Beth Gazo melodies. Patriarch Ya`qub III, who studied under Mor Yulios in Malankara, later produced audio recordings of the Beth Gazo that remain an important learning resource for the clergy.
Bibliography:
Jacob Touma, târîkh al-kanîsah al-suryâniyyah al-hindiyyah (Beirut, 1951)
398-400. A. Mnoufer Barsaum, 'adwa' `ala 'adabuna al-suryanî al-hadîth (Beirut, 1991), 49-50.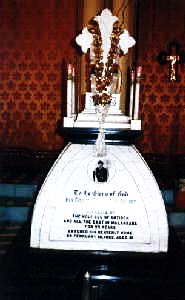 Tomb of Mor Yulios Elias at Manjinikkara
Source: Photo, September 1996