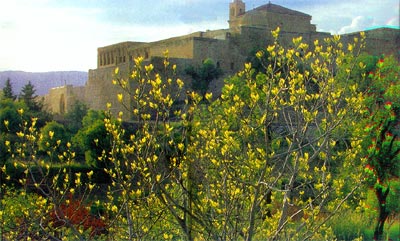 Source: Hollerweger, Turabdin - Living Culture, 1999
The monastery of Mor Hananyo (also known as Kurkmo Dayro in Syriac and Deir ez-Za`faran or Deyrulzafran in Arabic meaning the "Saffron Monastery", so named for the yellowish rock from which it is built), lies 6 km southeast of Mardin, the most accessible of the area's surviving Syriac Orthodox religious communities. Founded in 493 AD, it was, from 1160 until 1932 the seat of the Syriac Orthodox Patriarch - though the Patriarchate has since relocated to Damascus. A surprisingly large rectangular building of three storeys, set on a low bluff overlooking an approach road, it wouldn't look out of place in southern Italy or Spain, and, judging by the different styles of stonework, was built in stages, with frequent pauses for restoration. Now only two monks remain, running a school for about 25 orphans with the assistance of a few lay helpers.
The monastery can be reached by walking an hour and a half from Mardin, following the yellow signs leading southeast: first take the Nusaybin road, then turn off left following a little yellow sign, passing through the village of Eskikale. Eventually you'll come to another signposted turning leading you to the monastery. Failing that, pick up take a taxi from Cumhuriyet Meydani or the otogar; reckon paying $5 (possibly more if business is booming) for a return trip with waiting time.
Approaching the monastery, you will notice some cave dwellings carved out of the rock on the hills behind. Scattered around are the ruined buildings of two other monasteries which didn't survive into modern times. From the hills, ancient but still intact rock channels bring water to the monastery, whose entrance portal bears an inscription in Syriac. Some of the monks have a smattering of English, and after being greeted and perhaps offered a glass of tea, visitors are usually entrusted to one of the older orphans and taken on a guided tour.
First stop is an underground vault, said to have been used as a temple by sun worshippers as long ago as 2000 BC. A now-blocked window at the eastern end enables them to watch the sunrise, while a niche on the southern wall served as an altar (possibly sacrificial). The vault is enclosed by a ceiling of self-supporting stone built without the use of mortar. The room above, entered via huge 300-year-old walnut doors, is a mausoleum, whose walls contain the grave niches of seven Syrian Orthodox patriarchs and metropolitans.
Tours move on from here to the chapel, with fine relief-decorated arches and a carved stone altar (replacing a wooden one destroyed by fire fifty years ago), and the patriarch's or metropolitan's throne, on which are carved the names of all patriarchs since 792 AD. Services in the chapel are held in Aramaic, and if you can manage to be here around 6 pm you may be able to attend one of them.
Beyond are a couple of rooms containing sedan chairs once used to transport the patriarchs; you'll also be shown a carved walnut altar, made without using nails, and an ancient mosaic said to come from the grotto of Saint Peter in Antakya (Antioch).
Upstairs, across the peaceful courtyard, you may be also shown the monastery's guest rooms (people visiting for religious reasons may be able to stay overnight) and a more personalized suite intended for the use of the Patriarch on his rare visits from Damascus. Lastly you'll be taken out onto the roof terrace for fine views south into Syria, and overhead the orphans will point out abandoned cave hermitages and two ruined monastic churches: Mar Yakoub and Miryam Anna.
Source: Edited excerpt from Rough Guide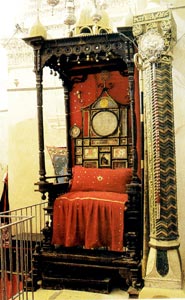 The Patriarchal throne at the monastery
Source: Hollerweger, Turabdin - Living Culture, 1999
Relevant Links: