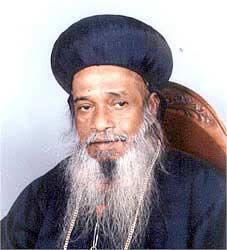 Source: Malayala Manorama, 22 Jan 2004.
Mor Yulius Yacoub was born as the second son of Madapattu Chacko and Annamma at Pampady, near Kottayam, on December 27, 1912. He completed his school education at Vazhoor St. Peter's school and education for priesthood at Thrikkothamangalam, Muvattupuzha, and Manjinikkara. He was ordained full deacon on May 24, 1942, at the Manarcaud St. Mary's Church and Qasheesho in 1945. He was tonsured monk by Mor Yulius Elias Qoro in 1955 and served as a malphono at the monasteries at Manjinikkara and Malekurishu.
Mor Yulius was consecrated by H.H. Patriarch Mor Ignatius Yacqub III as the delegate of the Patriarch of Antioch to Malankara and the metropolitan of Simhasana (thronal) churches at Damascus, Syria on 12 June 1975. His consecration was necessitated by the turbulent events in the Malankara Church leading to the departure of the then delegate metropolitan Mor Timotheos Aphrem Aboodi upon cancellation of his visa by the Indian government leading to an escalation of the faction wars in the church. In the long succession of delegates of the holy throne to Malankara, he became the first native bishop to decorate that position. He was well versed in Syriac and undertook the translation of Syriac texts into Malayalam, the most notable of which is the translation of the Hudoye canon. In recognition of his scholarship, he was decorated with the title Mshablono Tobo by Patriarch Mor Ignatius Zakka I in 1990. Many bishops and priests received their theological education from the malphono, whose memory is cherished by many.
Mor Yulius was called to eternal rest on January 24, 1992, at the age of 79. His mortal remains are interred in a tomb at the Manjinikkara Mor Ignatius Dayro, at the entrance to the tomb of the Patriarch St. Ignatius Elias III.
Malayala Manorama, 22 Jan 2004