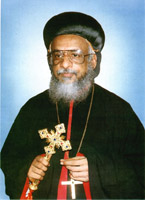 Source: Photograph, Summer 1994
HG Mor Kurilos was born as George Kurian on May 1, 1935 as the second son of Poothiyottu Paayikandathil Cherian George of Mepral and Annamma. He was ordained deacon by Mor Gheevarghese Gregorius of Ankamali in 1956. The late Catholicos Paulos II (then Metropolitan Mor Philoxenus Paulose) ordained him priest in 1956. Fr. George Kurian became the vicar of St. John's church, Mepral (Thiruvalla).
Fr. George Kurian was consecrated bishop Mor Kurilose by Patriarch Ya`qub III on July 21, 1974. His Grace served as the bishop of Niranam, Quilon and Thumpamon until March 21, 1995 when he passed away. His remains are interred in Mikhayel Mor Dionysius chapel, Adoor.
Mor Kuriakose was an accomplished orator and an able administrator who established many educational institutions in the diocese. His Grace served as the President of the Sunday School Association for a long time. During a very difficult period in the history of the church, His Grace provided able leadership for the church.