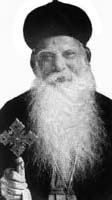 His Beatitude Catholicos Paulose II was born on June 12, 1914 to the Vicar of Cherai St. Mary's church, Qasheesho Puthussery Joseph and Elizabeth (Eeralil family, N. Parur). He was named P.J. Paulose. Qasheesho Joseph, who was an eminent Syriac scholar, served as a malphono (teacher) at Kottayam Old Seminary and M.D. Seminary, and was also the editor of Malankara Edavaka Deepthi. P.J. Paulose completed his secondary education at Cherai Ramavarma High School. After completing college education at Kottayam CMS College and Alwaye Union Christian College, Paulos joined the Manjinikkara Mor Ignatios Dayro. His education in Syriac had begun early in his childhood under the tutelage of his father and Qasheesho Vellakunnathu Mathai. At Manjinikkara Dayro, Paulos continued his Syriac education under Rabban `Abdul Ahad (later Patriarch Ya`qub III). His proficiency in Syriac was such that while reading the Evangelion, he would follow the Syriac text and translate into Malayalam impromptu. His Beatitude was also proficient in English and Sanskrit.
In 1934, Mor Yulius Elias, the delegate of the Patriarch to Malankara, ordained Paulos deacon at Kottayam Valiapally. In 1938, Mor Yulius ordained him priest at Manjinikkara Dayro. Fr. Paulos served as the Vicar of churches in Ceylon, Madras, Bramhavar (Karnataka), Trivandrum, Parathode and Ponkunnam. Later Fr. Paulose became secretary to Mor Yulius Elias and malphono at Manjinikkara Dayro.
On April 25, 1952, the Kandanad diocesan delegates meeting selected Qasheesho Paulose to succeed late Mor Athanasios Paulose (Alwaye Valiya Thirumeni) who had relinquished his additional duties as the metropolitan of Kandanad due to illness. Patriarch Aphrem I ordained him as metropolitan with the name Mor Philoxenus on October 19th, 1952 at Homs, Syria. On January 12, 1953, Mor Philoxenus Paulose assumed responsibilities as Metropolitan of Kandanad from Mor Athanasius Paulos at Alwaye Thrikkunnathu Seminary. For some time, Mor Philoxenus also served additionally as Metropolitan for Kottayam and Quilon dioceses. Following the Supreme Court verdict of 1958 on the schism in Malankara church, Mor Philoxenus became the assistant metropolitan of Kandanad with Mor Timotheos Augen (later consecrated Catholicos by Patriarch Ya`qub III) as the senior metropolitan. In 1960 and in 1965, Mor Philoxenus visited the Holy Land.
The unity in the Malankara church was unfortunately not destined to last long. Mor Philoxenus was chosen to be the Catholicos of the faction owing allegiance to the Patriarch of Antioch at the church delegates meeting held at Thuruthusseri. On September 7, 1975, Patriarch Ya`qub III consecrated Mor Philoxenus as Catholicos of the East. On returning to Malankara, His Beatitude worked tirelessly to rejuvenate the church which had been deprived of many of its churches and institutions. On September 14, 1980, His Beatitude made history by consecrating Mor Severius Zakka, Archbishop of Baghdad, as the Patriarch of Antioch; this was the first time in the long history of the Patriarchate of Antioch that a Catholicos from Malankara officiated at the consecration of a Patriarch. His Beatitude also ordained six bishops for the Malankara church. A great desire of the Catholicos was fulfilled with the founding of the Malankara Syrian Orthodox Seminary at Udayagiri.
Mor Baselius was widely revered for his simple mind and his spartan ascetic life. He conducted himself as a spiritual father to all without ever displaying the pomp that accompanied his office. Even in his private conversations he would dwell on his accountability on the Day of Judgment. As metropolitan and later as Catholicos, Mor Baselius desired for a lasting peace in the Malankara church. He was admired and revered by members of both factions in the church, as also multitudes of others in all walks of life. His funeral on September 2, 1996 was attended by tens of thousands of people—a testimony to the affection that he commanded in the society.
The remains of Catholicos Mor Baselius Paulose II are interred in a tomb in Malekurishu Dayro near Puthenkurishu in Ernakulam District, Kerala.