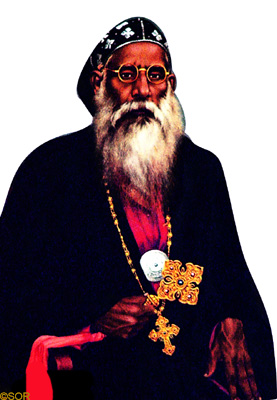 Source: Portrait at St. George's Church, Perumpilly
Mor Dionysius was one of the fearless Metropolitans who lead the Malankara church through a time of great crisis. He was born in 1880 (Edavam 15), as the son of Alummoottil John Upadeshi of Kayankulam. When Mikhayel was 18 years old, while playing in a tennis court, he was summoned by Pulikkottil Joseph Mar Dionysius, the Malankara Metropolitan, who had arrived at the Kadisha church at Kayankulam and was ordained a deacon on Christmas day. Mikhayel accompanied Mor Dionysius to Kottayam where he continued his education at M.D. Seminary and Old Seminary. He was ordained shamshono by Parumala Mor Gregorius and on Chingam 15, 1910 was ordained priest by Vattasseril Mar Dionysius.
Qasheesho Mikhayel served as member on the Kayamkulam town improvement committee and later in the Sree Moolam Praja Sabha. When schism rent apart the Malankara Syrian Church, Qasheesho Mikhail stood steadfast in his loyalty to the Patriarchate of Antioch parting ways with Vattasseril Mar Dionysius. In September 1927, Qasheesho Mikhayel was ordained Metropolitan Mor Dionysius by Patriarch Elias III. Mor Dionysius led a very simple life, giving away much of his possessions to the poor and needy. Until his death on January 18, 1956, Mor Dionysius was considered a pillar of strength for the church. His mortal remains are interred at Panampady church.
Source:
Souvenir of Karingachira St. George Church, 1980.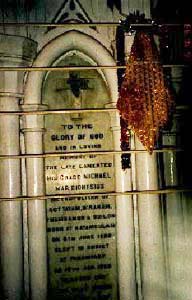 Tomb of Mor Dionysius at Panampady Church