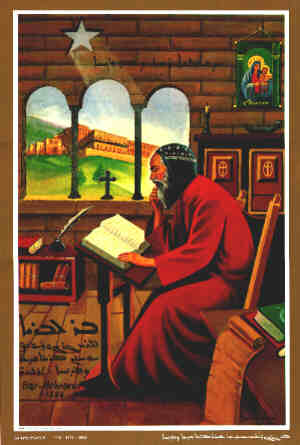 Source: Poster published by Dayro d-Mor Ephrem, Glane
Bar `Ebroyo (1226-1286) is the celebrated Syriac Orthodox Maphryono of the East. He studied medicine (his father was a physician as well) at Antioch and Tripoli. He was then consecrated bishop in 1246, and in 1266 he became Maphryono of the East with his residence at the monastery of Mor Mattay near Mosul.
Bar `Ebroyo was a polymath who wrote on virtually every subject: theology, history, medicine, mathematics, grammar, philosophy, law, ethics, monasticism, even a book of laughable stories (i.e. jokes)! His works are encyclopaedic in nature and are mostly written in Syriac, with a few in Arabic. He is not considered a saint of the Church but his memorial day is celebrated on July 30.
Maphryono Mor Gregorious Youhanna Bar `Ebroyo
Tarzi, J., Fr., Madhyono, vol. 1, no. 9-11.
The Life of Bar Hebraeus by Ernest A. Wallis Budge
From the Introduction to Budge, E.A.W. (1932). (Trans.) The Chronography of Gregory Abu'l Faraj, Being the First Part of His Political History of the World. London: Oxford University Press.
Caveat: The Syrian Orthodox Church does not endorse the theory advanced in this article as well as by other western scholars that Bar `Ebroyo was the son of a Hebrew physician. Please see the paper by Fr. Tarzi linked above.
Microsoft Encarta entry on Bar Hebraeus