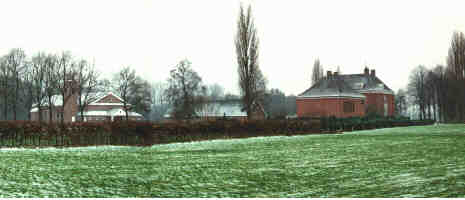 St. Ephrem's Dayro from one corner of the campus (December 9, 1995)
Dayro d-Mor Ephrem was established in 1981 when the Metropolitan of Central Europe H. E. Mor Yulius Yeshue Çiçek acquired a former Catholic monastery. The monastery is the first Syriac Orthodox monastery in Europe and was consecrated on July 7th, 1984. Today, it is the seat of the Archbishop of Central Europe. The Holy Virgin Mary Cathedral is located in the monastery campus.
Address:
St. Ephrem's Kloster
7585 Pk. Glane
Losser, Glanerburgstr. 33
The Netherlands
Tel: (31) 53-4614764
Fax: (31) 53-4611395
Pilgrim's Journal, an account of a visit by SOR web master Thomas Joseph to Mor Ephrem's in December 1995 (8th to 10th). The SOR web site originated from these pages, the earliest material on the Syriac Orthodox Church published on the World Wide Web.