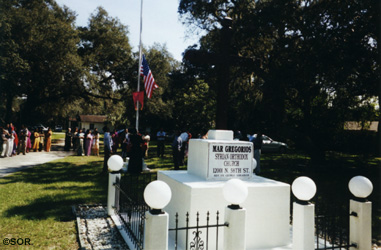 Source: Photograph dt. Oct 28, 2001 taken during the flag hoisting event for the feast of the patron saint Mor Gregorius of Parumala.
Mar Gregorius Syrian Orthodox Church is located in Tampa, Florida, and is a parish in the Malankara Archdiocese of the Syriac Orthodox Church in North America and Canada. The church was established in 1988 by immigrants from the state of Kerala in India. Worship services are held every Sunday.

Location
12001 58th St.
Tampa, FL
(Near the intersection of 58th Street & Fowler)
Directions
From Route 4 West:
Exit to 75 North (Exit 7)
Exit on Fowler Ave
Stay on left lane to Fowler West
Rt on 58th St. (Small street past 60th before 56th)
Church is on the right side on 58th

Phone
(813) 962-0143 (Vicar Fr. George Abraham's Residence)
Worship Services
| | | |
| --- | --- | --- |
| Morning Prayers | : | Sunday 8:45 am - 9:45 am |
| Holy Qurbono | : | Sunday 9:45 am - 11:30 am |
Note: The schedule may vary on feast days. On certain feast days, evening prayers are held on Saturday. The worship services are conducted in Malayalam.
A Brief History of Mar Gregorius Church
Mar Gregorius church was established in 1988 by Syrian Orthodox immigrants from Kerala, India who settled in Tampa, Florida. In the early ninetees, the church acquired the 2 acre property on 58th Street near University of South Florida. A house on the property was converted into a temporary building for worship services. On November 4, 2001, the foundation stone for a permanent church building was laid.
The church is one of the few Malankara churches in the US that have a kurishumthotti (a road side mini chapel that is common in churches of Kerala). Feast days are celebrated with fire works, lighting, colorful processions, etc., reminiscent of celebrations in Kerala.
About 25 families are members of this parish. Vicar Fr. George Abraham has served this parish since its beginnings.