Mor Gewargis Sahdo (St. George the Martyr) is indeed a universal Saint whose feast is observed in the East and the West. Very little is known of his life and martyrdom. His historical existence, though sometimes disputed, is now generally accepted by scholarship.
The Acts of St. George (i.e., the story of his life) was first written in Greek in the early fifth century. This early text exists today only in fragments. The text was translated into Syriac in the middle of the fifth century, only a few decades after the original Greek was composed. The oldest Syriac manuscript of the Acts, preserved at the British Library, was written around 600 A.D. This makes the Syriac version the earliest complete witness to the text.
Most people associate St. George with the dragon. The dragon, however, does not appear in early versions of the Acts, including the Syriac mentioned above. Originally, the word 'dragon' was just an epithet used of King Dadianus who is mentioned in the text. Thus, the Syriac version calls the king the "asp-serpent Dadianus." The text developed in later centuries (a usual phenomenon in hagiographic texts) and the dragon appeared in texts belonging to the twelfth century and later. The Syriac icon below shows St. George slaying a large snake, rather than a huge dragon that we are accustomed to.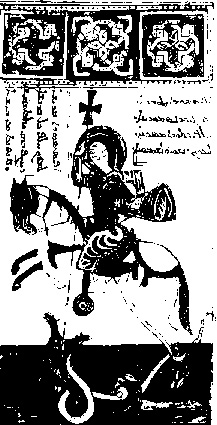 The feast of St. George is celebrated on April 23rd.
The Syriac and Arabic texts, with an English summary, have been published in G. Kiraz, The Acts of Saint George and the Story of His Father, from the Syriac and Garshuni Versions (Bar-Hebraeus Verlag, 1991). Address: Glanerbrugstr. 33, 7585 PK Glane/Losser, The Netherlands.
The Oxford Dictionary of the Christian Church (3rd edition, 1997).
G. Kiraz, The Acts of Saint George (1991).