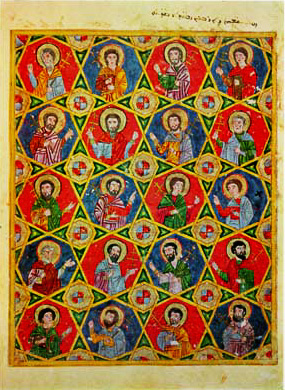 Twenty of the Forty Martyrs (the other twenty are depicted on another leaf)
Source: Manuscript Vatican Syriac 559
In c. 320, forty Christian soldiers in the Roman 'Thundering legion' became martyrs at Sebastia on the banks of River Kizil in Lesser Armenia (today in Central Turkey). During the persecution unleashed by the Emperor Licinius on Christians, the Governor Agricolaus commanded soldiers to worship idols. Having disobeyed the command, the soldiers were tortured and imprisoned. Subsequently, they were martyred by being left naked on the ice of a frozen pond, with baths of hot water on the banks as a temptation to renounce their faith. One of them succumbed to the temptation and his place was taken by a heathen soldier of the guard, who confessed his faith. Their bodies were stacked together on a pyre and burnt to ashes. Their ashes were recovered by Empress Pulcheria (399-453). Their martyrdom is narrated by St. Basil of Caesaria, St. Gregory of Nyssa and in works attributed to St. Ephrem the Syrian.
Hymns of the phanqitho of the Syriac Orthodox Church compares the Forty Martyrs to the forty palms in the vision of Prophet Ezekiel (Ezekiel 40-41), stars that removed the darkness of idolatry, the lamps of Sebastia that shone through the night and shed light throughout the world, and diamonds that glitter on the crown of the Church.
The phanqitho of the Great Lent names these martyrs: Dumitianus, Alexandrios, Kyrillos, Plabius, Smargdos, Xanthius, Sisianus, Levanthius, Severianus, Phileximon, Agagios, Iraqilios, Akdikios, Kurion, Avilus, Euthicius, Husegios, Eunicius, Ilianos, Acacius, Aethius, Athanasius, Nicolaus, Melitian, Candidus, Bibianus, Cydian, Gaius, Sacerdon, Duminos, Gorgonius, Priscos, Theodolus, Anatalius, Melition, Ilinius, Theophilos, Lucimacus, Ivanius, and Cilthodius.
The Church of the Forty Martyrs in Mardin is one of the earliest churches dedicated to the martyrs. It is still in use, though with a diminishing number of Syriac Christians, due to the political turmoil in that area which has forced an exodus of Syriac Christians.
Cross, F.L. and E.A. Livingston (ed.s), The Oxford Dictionary of the Christian Church. (Oxford University Press, 1997).