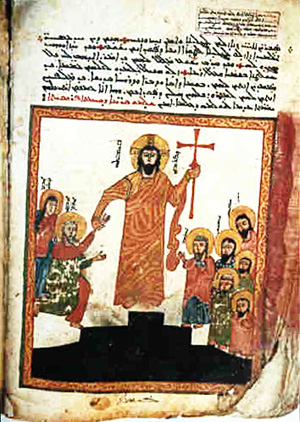 Source: Ressurection depicted in a Syriac ms. from 1457.
Easter Sunday (qyomto) is a celebration of the resurrection of Christ. During the evening prayer of Easter Eve (i.e., on Saturday evening), all the dark colored cloth used in the sanctuary during the Passion Week are removed and replaced with white and colorful cloth.
The celebrant, with the rest of the clergy, enters into the sanctuary and conducts silently the Order of Resurrection behind the altar where the Cross is buried on Good Friday.
At the conclusion of the silent prayers, the celebrant takes the buried cross from the altar. The burial wrappings are removed at the altar, the cross is washed with rose water and decorated with a red silk scarf as prophesied by the Prophet Isaiah, "Who is this that comes from Edom with crimson garments?" (Is. 63:1). The celebrant then holds the cross high and says in a loud voice, "My brethren, I bring you new glad tidings; Christ has risen from the tomb and has struck His enemies behind Him." The congregation responds saying "We believe and confess that He was indeed risen."
The cross is then placed on a stand in front of the sanctuary with two lit candles, one on each side. Following this, the clergy resume the morning (saphro) canonical prayers.
During the Holy Qurbono (Eucharist), a procession takes place followed by a Zuyoho service. The following hymn, among others, is sung during the procession.
Qolo: Quqoyo
The Almighty rose from the tomb
With a great power.
The prophet met Him and marveled at Him.
He [the prophet] drew near and asked Him:
"What happened to You, my Lord?
Why are Your garments red?
Your side and hands pierced?" [Isaiah 63:2]
"I have mightily trodden the winepress in Sheol.
I have fought the fight alone and was splashed with blood." [Isaiah 63:3]
Hallelujah, "I rose from the tomb."
SOR does not have recordings of Qyomto services. We request anyone willing to provide recordings to contact the Webmaster <thomas_joseph@bethmardutho.org>.