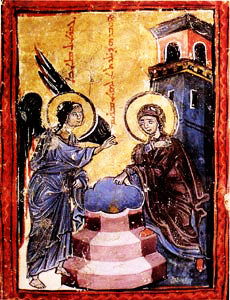 Suboro, annunciation to the Holy Virgin Mary, depicted in a Gospel Lectionary copied in Salah in 1227 for the church of Mor Sobo in Hah.
Annunciation to the Virgin is one of the most important feasts in the Syriac Orthodox Church, so important that the Holy Liturgy (Qurbono) must be held on this day even if March 25th also happens to be Good Friday! (The Holy Liturgy is otherwise prohibited on Good Friday since the Church celebrates the death of Christ; in fact, the altar is stripped of all altar vessels and covered in black on Good Friday.)
Annunciation Hymn


Audio
"Shlomo, Peace be unto thee,"
Said Gabriel,
"Our Lord is with thee;
Blessed art thou among women. [Luke 1.28]
I have left Him above, but found Him with thee.
He Whom you are bearing,
Who bears the whole creation."