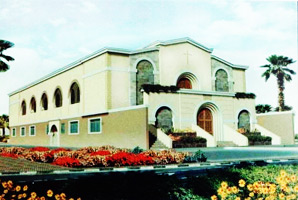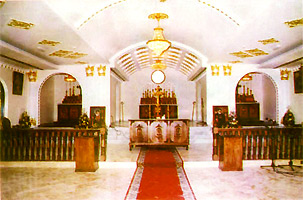 The Mar Ignatius Syrian Orthodox Church Dubai was formed by Syriac Orthodox immigrants from Kerala, who were employed in Dubai, Sharja and Ajman. A prayer meeting marked the beginning of the parish in1976, and later lead to the establishment of the Dubai Jacobite Syrian Christian Association in 1977. Initially, prayer meetings were conducted at residence of members. The late Patriarch Moran Mor Ignatius Ya`qub III approved the fellowship as a parish and the late Catholicos Mor Baselios Paulos II appointed Vicar Fr. Varghese Puliyan in the year 1978. The parish secured permission to use a class room in an English High School for the divine liturgy.
The parish was registered as a congregation in the year 1983 as Mar Ignatius Jacobite Syrian Orthodox Church and was dedicated to the saint and Patriarch Moran Mor Ignatios Elias III (Manjinikkara). With the influx of new members, the congregation rented the hall of the Holy Trinity Church for the parish activities. H.H. Moran Mor Ignatius Zakka I visited this church in 1988, a historic event for this church. Later, the respected rulers of Dubai graciously allotted a plot of land measuring 20,000 sq.ft. in Jabel Ali near Dubai City to the church.
In the past the parish was administered directly by the Patriarch of Antioch directly. Now, the parish is in the pastoral care of H.G. Mor Gregorios Joseph, Metropolitan of Cochin & UAE Diocese. A constitution was formulated in 1980 for the smooth running and administration of the church. The memorial day of the patron saint of the parish Mor Elias III is celebrated on February 12 & 13 every year. The spiritual organizations of the parish include a youth association, women's association, Sunday School, etc. The parish publishes a quarterly titled "The Church News". The parsonage has a library for the benefit of the members of the parish.
On October 6, 2000, H.G. Mor Gregorios Joseph laid the foundation stone for the church, blessed earlier by the Patriarch H.H. Moran Mor Ignatius Zakka I. The Patriarch consecrated the newly built church building on 14th & 15th of June 2001 assisted by Catholicos-Designate H.E. Mor Dionysius Thomas, Chief Metropolitan of the East H.E. Mor Clemis Abraham, and Their Graces Mor Ostatheos Benymin, Mor Gregorios Joseph and Mor Yulius Kuriakose. The main altar is dedicated in the name of Moran Mor Ignatius Elias III and the side altars in the names of Holy Virgin Mary and Maphryono Mor Baselios Yaldo respectively.
The church is on the upper floor of the building and can hold 1200 persons. The ground floor has a hall with seating capacity of 400, accomodation for the vicar and family, a bishop's suite, etc.
Source: Biju Kurian Mathews <bkmbkurian@hotmail.com> based on the Church Souvenir published in connection with the consecration.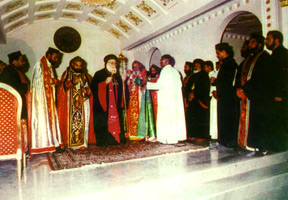 Consecration by H.H. Patriarch Zakka I on June 15, 2001