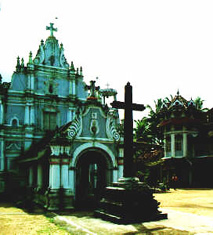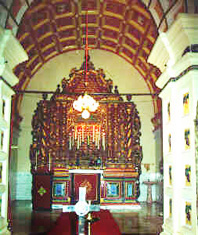 Source: Photographs taken on September 19, 1996
Nadamel Marth Mariam Church, Tripunithura was founded around 12th century A.D. by parishioners of Karingachira Church. The church was established on land donated by Valamthuruthy Bhattathiri whose illam (joint family) was afflicted by an illness which was cured through the intercession of the Holy Virgin. For centuries, this family used to donate coconut oil for lighting lamps during the festival of Makaram 15th. Following the Koonen Kurishu Sathyam, this parish was also affected by the schism. In 1825, a group of parishioners loyal to Rome, separated from the church after obtaining a share from the church and established the St. Mary's Forane church to the south of Nadamel church. Nadamel church was patronised by the Cochin royal family. Whenever a new Highness ascends the throne (on the 11th day after the demise of the departed Highness), he would make an offering called sharkara thattu veypu in person at the church. It was customary for the Royal Highnesses of Cochin to meet the bishops and leaders of the Syrian Christian community at the church building to the south of this church.
Source: Souvenir of St. George's Church, Karingachira, 1980.